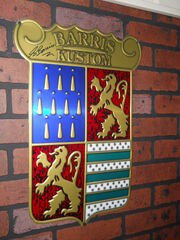 George Barris is known throughout the world as the 'original' King of Kustomizers. His creations are legendary in the world of television and motion pictures including the likes of the 1966 Batmobile, General Lee, Munster Koach, Dragula,Green Hornet's Black Beauty , Beverly Hillbillies jalopy , Monkee Mobile, K.I.T.T from Knight Rider, and many more!
---
Ad blocker interference detected!
Wikia is a free-to-use site that makes money from advertising. We have a modified experience for viewers using ad blockers

Wikia is not accessible if you've made further modifications. Remove the custom ad blocker rule(s) and the page will load as expected.