Herman, The Tirekicker
is the 66th episode of
The Munsters
. It first aired on March, 31 1966. It was an episode in
The Munsters 2nd Season
. It featured guest star Frank Gorshin.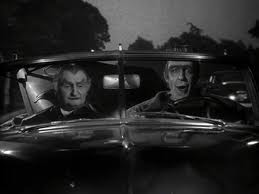 Herman Munster wants to by a car for his niece Marylin Munster so he goes to a car dealership on the side of the road run by Fair Deal Dan. In reality Fair Deal Dan was a car thief and what Herman bought in reality was a stolen lemon. Shortly after reaching home the car explodes. Lily, who is mad at Herman makes him and Grandpa return the car after which Herman is arrested for being in the possession of a stolen car. Herman sees Fair Deal Dan shortly after being arrested for being drunk while driving Herman then tells the police who sold him the stolen car and the police arrest Fair Deal dan and let Herman go with Lily.
Ad blocker interference detected!
Wikia is a free-to-use site that makes money from advertising. We have a modified experience for viewers using ad blockers

Wikia is not accessible if you've made further modifications. Remove the custom ad blocker rule(s) and the page will load as expected.