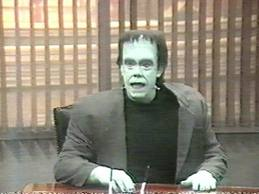 Herman Munster
was portrayed by a different actor on
The Munsters Today
TV show. Instead of being played by
Fred Gwynne
,
Herman Munster
was portrayed by
John Schuck
. He looked different from the original version and sounded different too. The producers of The Munsters Today originally wanted Gwynne to portray Herman for the show but he turned the role down. This version of Herman appeared only on The Munsters Today.
Ad blocker interference detected!
Wikia is a free-to-use site that makes money from advertising. We have a modified experience for viewers using ad blockers

Wikia is not accessible if you've made further modifications. Remove the custom ad blocker rule(s) and the page will load as expected.