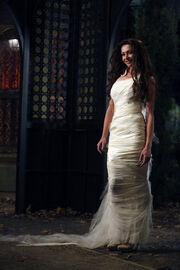 Lily Munster was portrayed in Mockingbird Lane by actress Portia de Rossi.
Biography
Edit
Lily is the daughter of Grandpa and the wife of Herman Munster. She is also the mother of Eddie Munster and the aunt of Marilyn Munster. She is a kind female vampire and a loving wife and mother.
Originally Mariana Klaveno was cast as Lily in Mockingbird Lane, but on June,12th 2012 they recast Portia de Rossi as Lily instead.
Ad blocker interference detected!
Wikia is a free-to-use site that makes money from advertising. We have a modified experience for viewers using ad blockers

Wikia is not accessible if you've made further modifications. Remove the custom ad blocker rule(s) and the page will load as expected.