The Munsters Wiki is about The Munsters TV show (1964-1966) and its spin-off films and TV series. This comedy/sitcom was about a family made up of friendly monsters and ghouls who led normal lives in the modern world. Since The Munsters Wiki is just starting we need all the help we can get! Please help edit the site so we can tell the world the complete story of The Munsters!

Our database contains 92 articles and 196 images.


Overview · Searching · Editing · Help . Templates · Categories . Admins
What is your favourite iteration of The Munsters?



Visit Our Sister Site
The Addams Family Wiki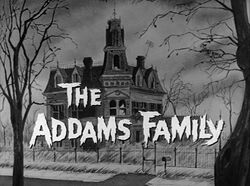 Ad blocker interference detected!
Wikia is a free-to-use site that makes money from advertising. We have a modified experience for viewers using ad blockers

Wikia is not accessible if you've made further modifications. Remove the custom ad blocker rule(s) and the page will load as expected.