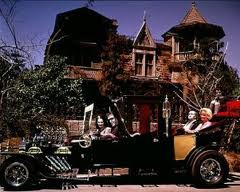 The Munster Mansion was the main home of the characters in The Munsters. It is located at 1313 Mockingbird Lane in the small town of Mockingbird Heights. The state the Munsters live in isn't revealed, but several indications suggest it is part of the out-lying towns near Los Angeles.
Constructed in a Gothic Victorian style, the house stands on a property enclosed by a stone wall and the yard is full of weeds and dead trees. It's a nine-room mansion with one bathroom, secret passages and doorways. Adjacent by a trap door in the parlor, the cellar has been converted into a Laboratory. The structure seems to have been built on a Spanish Prison that once held Morgan the Pirate, whose treasure was found in the back yard.
The house was a Universal set used many times before it was in its most famous role as the Munsters house in the 1960s.The Munster Mansion's Munster decorations were taken out and the house looks as it did before the Munster makeover today.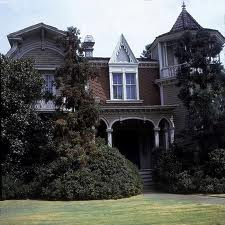 The house was built on Stage 12 in 1946 at Universal for the filming of the movie So Goes My Love. It later had a 1,000,000 dollar makeover for the TV sitcom, The Munsters.
Appearances In Film And TV
Edit
So Goes My Love (1946)
Abbott and Costello Meet The Invisible Man (1951)
All I Desire (1953)
Monster On Campus (1958)
Alfred Hitchcock Presents (Episode "Bang, Your Dead")
Leave It To Beaver
The Brass Bottle (1964)
Dragnet
Munster Go Home (1966)
Coogan's Bluff (1968)
It Happened One Christmas (1977)
The Munsters Revenge (1981)
Shirley (TV Show)
The Incredible Hulk
Dragnet (1987)
The 'Burbs (1989)
Murder, She Wrote
Desprate Housewives
Mockingbird Lane (2012) (house seen in background, labelled as 1307 Mockingbird Lane)
Updated Version
Edit
Here is some brand new concept art for The Munsters remake, Mockingbird Lane. The house is much bigger than it was originally on the old show.
Ad blocker interference detected!
Wikia is a free-to-use site that makes money from advertising. We have a modified experience for viewers using ad blockers

Wikia is not accessible if you've made further modifications. Remove the custom ad blocker rule(s) and the page will load as expected.